This post is one in a series done for a class I took as a senior in college on visual rhetoric.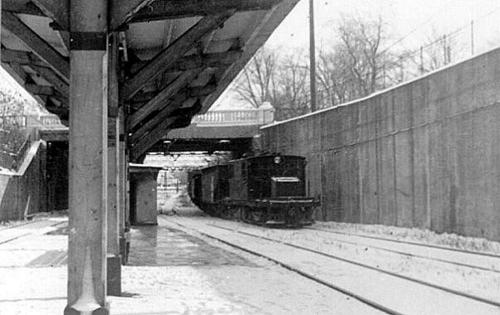 I've lived near Rochester my entire life (about 40 minutes away by car), and yet I know so little about its history. What I do know about the city's history can be summed up in a small bulleted list:
Back in good ol' colonial times, Palmyra (my small, quiet hometown) was a bigger, more bustling city than Rochester was at the time
Kodak and Xerox made Rochester a boomtown and brought many, many businesses and people to the city and the surrounding region
When Kodak and Xerox made a turn for the worse, so did Rochester. None of them have recovered.
… That's it.
I have a feeling that dearth of knowledge is about to change. In the small amount of research about the abandoned tunnel that I've already done, here's what I've learned:
The Erie Canal used to run through this tunnel. Eventually it was diverted to go around the city instead of through it.
In the 1920s, the former city canalway was adapted to serve as a new subway tunnel. This rail system ran until the late 1950s.
The tunnel has been abandoned since. The specific part that I'm looking at, over the Genesee River and under the library, has been considered to be turned into a tourist attraction, a footbridge with a Rochester Transportation Museum (according to Wikipedia).
However, the city doesn't really think it has the money for this kind of thing. Instead it wants to fill it in with dirt because, as it is now, it supposedly takes over $1 million per year to keep the tunnel maintained (that is, from caving in).
Now this is key: When the city announced this plan, there was a loud public outcry. The subway tunnel is an important part of Rochester's history and identity, the protesters argued. Despite the current "uselessness" of the tunnel, no one really wants it gone (besides the city government's book-balancers).
That is to say, the abandoned tunnel is an important part of Rochesterians' cultural identity, and they seek to preserve it so as to preserve that identity.
I hope to better understand this identity as I get deeper into this project. I've got a DVD documentary about the Rochester subway coming through interlibrary loan. (This documentary was apparently made by Rochester's own Animatus Studios, where I took animation classes  when I was very young—but that's a story for another time.) And I've found more material to read about the tunnel and the canal, so that'll be good. And, of course, I'll be visiting the tunnel again. Maybe we'll run into some homeless Rochesterians this time.
Photo from here.