This post is one in a series done for a class I took as a senior in college on the visual rhetoric.
Working for OIT (The Office of Information Technology; that is, the people who take care of all the technology, from computers to projectors to microphones, unfortunately for me, flipcharts, at our school) usually has me running around maintaining, fixing, replacing, settings up, or taking down those things mentioned in the parenthetical. I'm usually interested in what I'm doing (especially when working with computer software and, to a lesser extent, hardware), and they pay me well, so I can't complain.
There are some times that doing my job takes me out of what you—or I—would expect my job to entail. Occasionally I have been tasked to, for example, design, produce, and distribute some piece of visual rhetoric on OIT's behalf. For example, two summers ago my boss in Media Services asked me to make step-by-step instructions for replacing a projector lamp, a relatively simple but sometimes confusing process, for the benefit of fellow and future student workers. I took the photos, wrote the text, assembled the page (positioning the pictures, choosing typefaces and sizes) and then sent the results to my boss. Since I was so proud of my work, I also printed a copy of the instructions on the black-and-white LaserJet in the Media Services office and hung it on the wall near the student worker desk.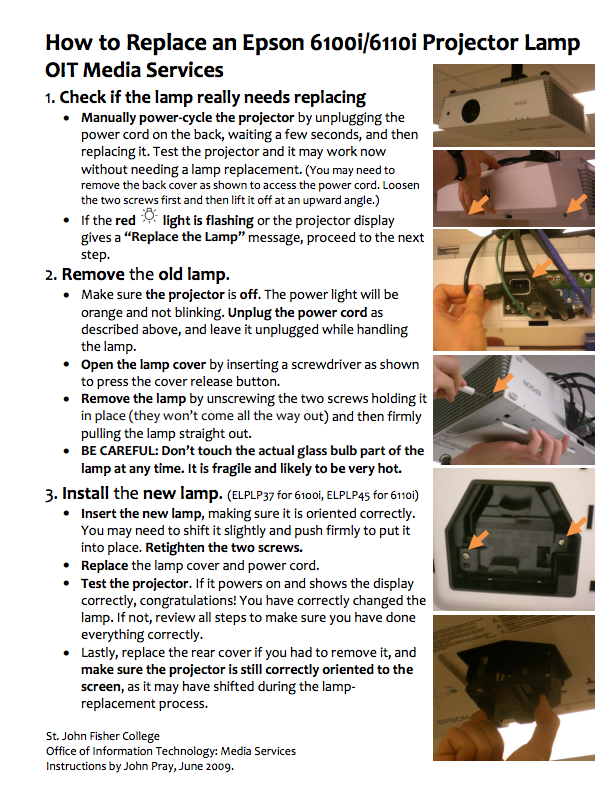 There it remains to this day, informing any student worker who cares to read it everything they need to know about replacing the lamp for an Epson 6110i projector. I served, in some capacity, every role in the creation process of this visual rhetoric; that is, there was virtually no specialization involved. I designed, composed, produced, and distributed the work of rhetoric all on my own, with minimal input from others. This was made possible by the technology available to me: digital cameras, computers with image-manipulation and publication-producing software (not to mention the Internet), and fast, cheap laser printing. This is a far cry from the days of specialization in design — days, I think, that are being quickly brought to a close by the proliferation of personal computers and, in particular, the Internet.
Why hire someone to take your pictures and design your page (or blog post, as the case may be) when you can do it all yourself with minimal additional skills or knowledge needed? Why contract some company that has no grasp of your group's culture or ideals to create your website when you can do it yourself, being sure that you are represented accurately in every step of the process? Why ask your friend to explain some aspect of British history to you when you can find a better explanation with a quick web search?
It's been said many times, but it's still more true than any of us can really grasp: recent technology is changing the world, changing human civilization, in ways we can only try to understand and more quickly than we can hope to keep up with. It's pretty cool, technology. I hope it sticks around for awhile, even if that global nuclear holocaust does come to be. At least then well be able to rebuild civilization faster, right? And without even a need for specialization in visual design.